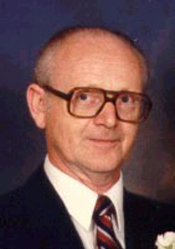 Klaus Karl Rheinhold Ernst Sachse's passing went by with little notice by this world, save for a handful of family members and a small contingent from the tennis/curling club to which he belonged. Klaus Karl Rheinhold Ernst Sachse was not renowned for anything in particular, nor accomplished in some noteworthy endeavor. However, he did make a difference in the lives of his three children and three grandchildren; and as such, left a priceless legacy.
He was a rather stoic and extremely private man – rarely given to outbursts of emotion. He was also a proud man who tried to live his dream until the dream was all that was left to him. He held inside of himself a spark and a vision that he passed on to his children. In the grand cosmic scheme of things he was an ordinary man who dreamed of a greater life. And that life was to be lived among the stars!
Klaus Karl Rheinhold Ernst Sachse was born in AngerMeunde, Germany and moved to Toronto, Canada in 1955. As a young man, he was always fascinated with space exploration. His dream then was to help build the engines that would send jets and rockets into space – so a part of him would be up there as well. This noble goal, however, was not to be, but he never lost sight of this dream. He followed the Mercury, Gemini and Apollo projects very closely and with each launch a part of him went along for the ride. One of his greatest sorrows was Canada's loss of the Avro Arrow from which Canada would "never fully recover."
Though unassuming, his early life was marked with hardship during the war and tragedy with the loss of his parents at age ten. He found work as a coal-miner and saved his money until he had earned enough to come to Canada. The prime of his life was spent "Doing the right thing" by his family, which kept him away from his home as well as his dream. He enjoyed the few times when he could take his kids for trips to various open fields in order to launch their rockets and experimental vehicles. He enjoyed "Star Trek" and found a kindred spirit in the lives of those explorers. He began consuming science fiction novels by the "Thewsands."
His later years were spent building models, puttering around in his garden, exploring culinary adventures; and of course, enjoying the company of his small circle of friends and family.
Thanks to Celestis, we can now, a decade after his passing, honor his wish and fulfill his life-long dream by sending him to the stars that were always his real home.
His spark is alive in those who remember and still love him. We still miss you very much, Dad.
With all our love,
Frank, Ron, Monica, Jessica, Nate, Eric (and Tara)
---
Klaus Karl Rheinhold Ernst Sachse flew on two Celestis Memorial Spaceflights:
The Legacy Flight from Spaceport America, New Mexico
The New Frontier Flight from Cape Canaveral, Florida